---
LION COUNTRY SAFARI CARDS



Lion Country Safari's Off Broadway Production
Rivertown Melodrama
The back of the 2nd card above says this was taken in the Lion Country Safari area. This seems to be a mis-print.
The next 2 folders have 6 detachable postcards each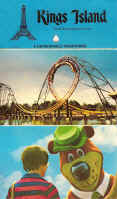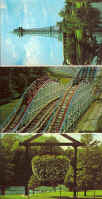 Screamin' Demon Eiffel Tower Screamin' Demon
Yogi Bear The Twin Racer
Lush Gardens
The bottom card above is only partially shown as it would not fit scanner. I am only showing two of the cards in this booklet the others are shown as separate cards elsewhere. The folder below has 13 images, most of which are not shown elsewhere. Remember these are not postcards but are images that are back-to-back in the folder.



Front of Folder Back of Folder




Carrousel Cartoon Characters Court of Games The Demon




Fountain and Balloons Liberty Bell Shrub Log Flume American Heritage Music Hall




Old time cars The Beast Twin Racers
The folder below also shows 13 images, all but 3 of which are shown elsewhere.





Landscaped Floral Clock Off Broadway Show Railroad Station

Kings Island Camping Resort
Adjacent to Kings Island
3D P0STCARDS