Steam Cars
---
The first steam cars were built because horses were too slow and lacked endurance. Steam cars were not allowed on city streets because horses panicked in their presence. They were only useful on suburban lines. The line these cars below ran on was very steep, rising 300'. The last steam car ran on 7/1/97 at which time electric cars replaced them.
These are not postcards
This steam dummy, tested in Cincinnati, operated a 6 hp. engine using coke in 1860. It pulled a trailer with forty-one passengers.

The Joe Bell B. F. Brannan's Station "Dummy" steam car
The steam engine called the "Joe Bell" pulled a trailer for passengers. It began operation in 1873 from Eastern Ave. along what is now Delta Ave. to Mt. Lookout Sq. The second non-postcard image is a scene on Mt. Lookout branch of the Columbia and Cincinnati Street Railroad in the 1890's. The station served B.F. Brannan's Subdivision at Delta and Linwood roads. Because steam locomotives frightened horses, they were disguised as horse cars and popularly called "dummies". Instead of being towed in a separate car, passengers were in the same car as the steam engine.
This is a map showing the route the Mount Lookout Steam Dummy took. The second image is a poem that was written in 1896 by a Commercial Tribune newspaper contributor, Jack Appleton, as a parity of the "Old Oaken Bucket" by Samuel Woodsworth, an American journalist some 60 years earlier.

East End Electric Railway
The East End Electric Railway was constructed to replace the steam cars on the Pendleton to Columbia portion of the Columbia and Cincinnati Street Railroad. Car #131 was built in 1891 the same year that the East End Electric began operations (9-2-91),
Main Street Incline Steam Dummy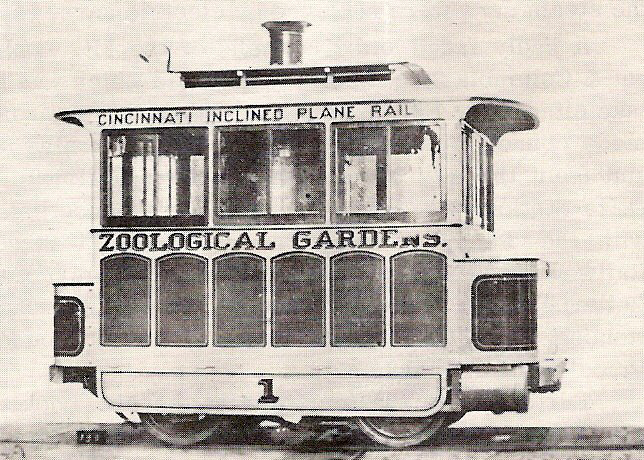 Not Expandable
Another steam driven car was used on the Main Street line of the Cincinnati Inclined Plane Railway from the top of the incline along Auburn Avenue and Vine Street to the Zoo. It was used for only a short time during the horse car days before electrification. This car pulled trailers.